NANTAI 12PSDW HOT SALE 12PSDW Diesel Fuel Injection Pump Test Bench with Factory Low Price
Product Detail
Product Tags
Technical characteristic of 12PSDW diesel pump test bench
| | |
| --- | --- |
| Items | Data |
| Main motor output power(kw) | 7.5,11,15,18.5 |
| Frequency Converter | Delta |
| Scope of rotate speed (r/m) | 0-4000 |
| Standard Injectors | ZS12SJ1 |
| Number of Cylinders | 12 |
| Height of principal axis center (mm) | 125 |
| Filter oil precision of test bench(μ) | 4.5~5.5 |
| Volume of big and small volumetric cylinder(ml) | 150 45 |
| Volume of fuel tank(L) | 40 |
| DC power supply | 12/24V |
| Low pressure of fuel oil pressure(Mpa) | 0~0.6 |
| High pressure of fuel oil pressure(Mpa) | 0~6 |
| Pressure Gauge for VE Pump (Mpa) | 0-1.6 |
| Pressure Gauge for VE Pump (Mpa) | 0-0.16 |
| Control temperature of fuel (°C) | 40±2 |
| Flywheel inertia(kg*m) | 0.8~0.9 |
| Scope of rack bar stroke(mm) | 0~25 |
| Measuring range of flow meter(L/m) | 10~100 |
| DC electrical source (V) | 12 24 |
| Positive pressure of air supply(Mpa) | 0~0.3 |
| Negative pressure of air supply(Mpa) | -0.03~0 |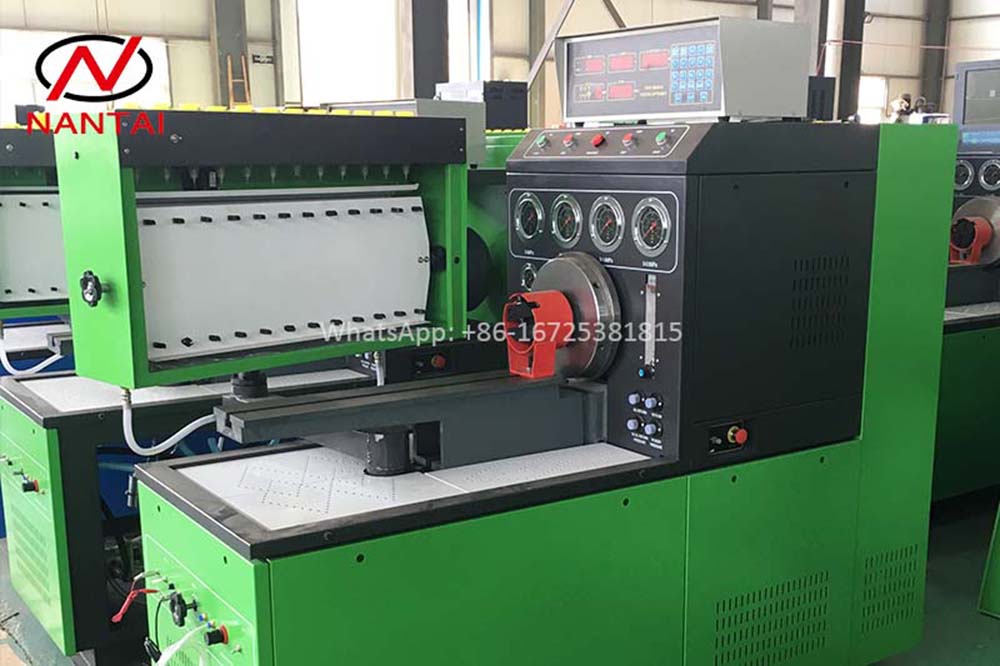 Main function of 12PSDW diesel pump test bench
1.Measurement of each cylinder delivery at any speed.
2. Test point and interval angle of oil supply of injection pump.
3. Checking and adjust the mechanical governor.
4. Checking and adjusting the distributor pump.
5. .Experiment and adjusting of behavior of supercharging and compensatory device.
6. Measurement of oil return of distributing pump
7. Testing of the electromagnetic valve of distributor pump.(12V/24V).
8. Measurement of the internal pressure of distributor pump.
9. Checking of the advance angle of advance device.(on request).
10. Checking the sealing of injection pump body.
11. Install tube of auto-sucking oil supply can check on oil supply pump(including VE pump.)
1. 12PSB series fuel injection pump test bench are designed for customers' requirement.
2. This series test benches adopt high quality frequency conversing device
3. Have characteristics with hi-reliability, ultra-low-noise, energy save, high output torque, perfect auto-protecting function and easy to operate.
4. Test 12 cylinders at one time.
5. With a row of shortcut buttons, you can quickly operate basic functions such as switches.
---
Next:
NANTAI CAT3100 Common Rail HEUI Injector Test Bench used for Test HEUI Injector Common Rail Injector
---
Write your message here and send it to us